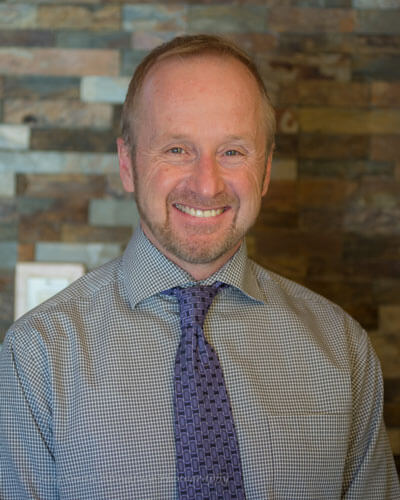 Dr. Rudy Wassenaar received his dental degree from the medical faculty of the University of Amsterdam in 1981. That year he started in private practice in Amsterdam, the Netherlands. In 1986 he passed the requirements of the National Dental Examining Board of Canada, and subsequently, he moved to Canada in 1987. He continued his career in private practice in Williams Lake, BC until current.
Dr. Rudy Wassenaar belongs to a number of professional organizations and study clubs to stay on top of his field and to satisfy his passion for the field of dentistry. Practicing in a rural area where specialist care is only marginally available, he has made a wider range of procedures available to his patients to serve them better, only one of which being dental implants.
As recognition for his affiliation with the Academy of General Dentistry (AGD), Dr. Wassenaar received a Fellowship Award (2000) and a Mastership Award (2007). He also holds a Fellowship Award from the International Academy of Dental-Facial Esthetics and as such has lectured on a variety of topics at some of their international meetings. His latest endeavor with regards to international involvement was with the Global Summit and Expo on Dental & Oral Diseases in Dubai (UAE), where he delivered a keynote address titled Technology and Expanded Applications of Dental Implantology as part of Comprehensive Treatment Planning.
Dr. Wassenaar has been invited to speak at the July 2017 annual meeting of the Academy of General Dentistry in Las Vegas. This is one of the largest dental conferences in North America and is expected to attract more than 3000 dental professionals. The topic of his presentation will be how the latest advances in biotechnology affect wound healing and tissue regeneration.
Dr. Wassenaar is particularly recognized for his involvement with implant dentistry. He placed his first dental implant in 1989 which is still functioning today. The premier institution worldwide that offers comprehensive training in dental implantology is the Misch International Implant Institute. After completing a 3-year comprehensive program and passing a written examination he was awarded the Surgical Fellow Award in 2011. Through his involvement with the International Congress of Oral Implantologists (ICOI), he has completed a number of credentialing programs which resulted in a Fellowship Award (2005), a Mastership Award (2009), and later culminated in receiving the Diplomate Award (2011) which is the highest level of recognition the ICOI offers. One of the requirements was to appear before peer review panels and to present at a number of international dental meetings (San Diego, New York, Chicago, Orlando).
In 2014 Dr. Wassenaar received the Diplomate Award of the American Board of Oral Implantology/Implant Dentistry (DABOI/ID). Worldwide this is regarded as the pinnacle in demonstrating skill in dental implantology, coveted by dental specialists and a select group of general dentists alike. To date, only a little over 400 Diplomate Awards have been issued worldwide in its 46-year existence.
In 2016 Dr. Wassenaar was inducted as a Fellow in the American Academy of Implant Dentistry. To qualify for Fellowship, an expert panel of implant dentists reviewed Dr. Wassenaar's professional and leadership credentials as well as a commitment to excellence in implant dental practice and to the Academy's standards for ethics and patient welfare.
Dr. Wassenaar was required to document for review that he was a Diplomate of the American Board of Oral Implantology/Implant Dentistry, the certifying board that the Academy sponsors, and that he provides both the surgical and restorative phases of implant treatment. Established in 1951, the AAID is the only dental implant organization that offers credentials recognized by the US state and federal courts as being bona fide.
Dr. Wassenaar is a member of The Canadian Dental Association, the Academy of General Dentistry, the Alumni Organization of the L.D. Pankey Institute, the Academy of GP Orthodontics, the International Academy of Dental-Facial Esthetics, the American Academy of Cosmetic Dentistry, The International Congress of Oral Implantologists, and the American Academy of Implant Dentistry.
Dr. Wassenaar's practice and his philosophies with regard to providing patient care have attracted international attention. He will be featured in an upcoming segment of "behind the scenes", an award-winning series of educational documentaries where the public is informed on the latest innovations and strategies in health care and other industries. It is produced by US Public Television and hosted by James Earl Jones.
Dr. Wassenaar holds the President-Elect position of the BC chapter of the Academy of General Dentistry (AGD). The AGD is a professional organization of more than 40,000 general dentists dedicated to staying up-to-date in the profession through continuing education. Founded in 1952, the AGD has grown to become the world's second-largest dental association.
Dr. Wassenaar is one of the founding members of the Canadian Academy of Implant Dentistry (CAAID) and holds the position of Vice-President. The CAAID's purpose is to promote implant dentistry as a treatment option, to provide continuing education opportunities, and to work towards a credentialing standard in implant dentistry. The CAAID has currently more than 400 members in Canada, which consists of general dentists as well as dental specialists.
Dr. Wassenaar has been involved with volunteer work including training local auxiliary personnel in operating field dental clinics in Surinam (SA) and also has provided dental services for the underprivileged in Honduras on numerous occasions. Dr. Wassenaar sponsors a scholarship fund with Thomson Rivers University to assist local students to get started in their post-secondary education.
In his spare time, Dr. Wassenaar enjoys his music as an accomplished pianist and is learning to play the guitar. Travel, cooking, and fishing are some of his other passions. On the odd occasion, he has been observed going too fast on motorcycles and too deep while scuba diving.
"My vision is to continue to study and to learn the latest techniques in dentistry so we can offer our patients the utmost in dental care. Balanced with this vision is that we promise to treat patients as an individual, and to provide a caring, friendly, and pain-free atmosphere." – Dr. Rudy Wassenaar
Dr. Vivek Patel is an experienced and easy-going general dentist. He has a great passion of bringing dentistry to the patients. Dr. Patel provides all aspect of general dentistry including special interest in digital smile design and dental surgery.
He is keen believer in comprehensive dental care & help patient to achieve optimal oral health.
Dr. Patel likes to keep upgrading himself by participating in continuing dental education courses. Currently, he is working towards his credentials in Implant Dentistry.
He is certified provider for Invisalign, oral sedation and nitrous oxide sedation.
Dr. Patel is an active member of CDSBC, BCDA, CDA, AAID, ICOI, ITOAC, BC Dental Study Club.
He started his dental career in Sudbury, Ontario in 2020. After spending some time in Ontario, he decided to move to British Columbia where he joined Williams Lake Smiles dental clinic in June 2021. Since then, he has been serving the community by providing dental services under Mentorship of Dr. Wassenaar.
He has participated following CE courses:
1. Mastering adult minimal sedation at UBC
2. Masters in endodontic fundamental
3. Implants dentistry continuum at implant seminar
4. AAID 300 hours of Maxi-course Vancouver at UBC
5. AIC implant basic course
6. CEREC level 1 certification
Outside of Dental Practice- He likes to play Badminton and Volleyball. He loves to travel and explore new places.
Dr. Patel's wife is currently pursuing DDS (Doctor of Dental Surgery) at University of Western Ontario.