Fixed dentures are prosthetic or custom-made teeth designed to attach to custom or artificial gum tissue. The fixed denture sits right over the top of your natural gums and is more securely in place than conventional dentures. Fixed dentures are more secure because they use dental implant technology to attach teeth to your jaw or gumline.
Titanium mounts or implants are inserted into the jaw bone in the areas that will provide optimal support depending on if a patient needs a fixed partial denture or fixed full mouth denture.
Benefits of Fixed Dentures
Once fixed dentures are set, they function and act just like real teeth. They are a durable option for tooth replacement that does not slip or move around. Fixed dentures can only be added and removed by a certified dentist.
Fixed dentures are anchored so well as part of your new smile, that they provide the support needed to function in everyday scenarios as well as prevent bone loss. Conventional dentures are known to cause bone loss due to the pressure they place on the bony ridges where former teeth once were.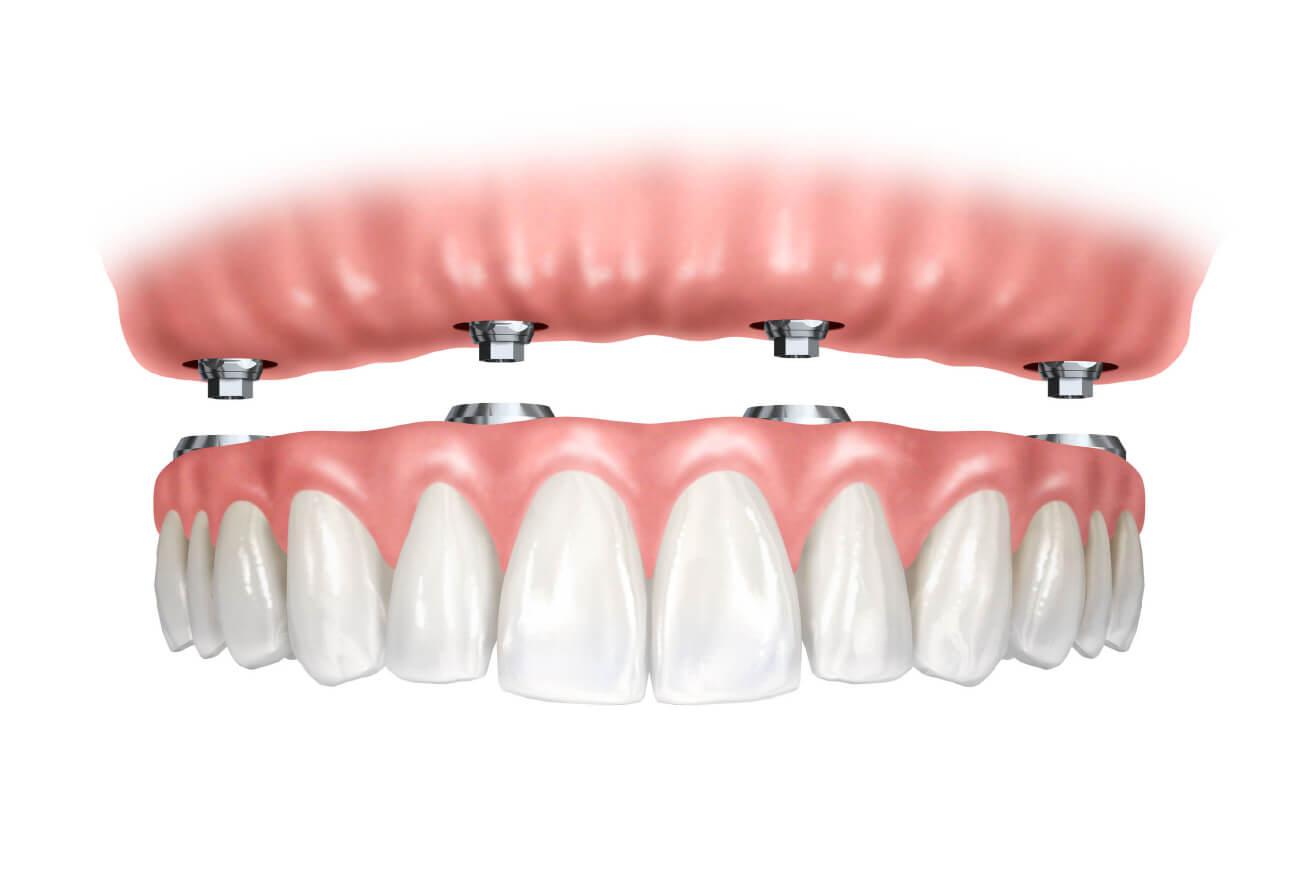 About Conventional Removable Dentures
Removable dentures are the traditional tooth loss replacement that people think of when they hear the word "dentures." These prosthetic teeth are designed within a gum-colored mold that fits over the top of your natural gums.
Removable dentures can be taken out and reinserted anytime the wearer wants. If one wants removable dentures to stay securely in place, additional measures, such as adhesives would need to be utilized. Unfortunately, this type of denture, even with adhesives, can still slip or move around when talking, laughing, or eating.
Once upon a time, removal full dentures were the best solution to tooth replacement. However, as science and dental technology have progressed, these conventional, removable dentures have been found to cause wear away at the bone where your teeth once were.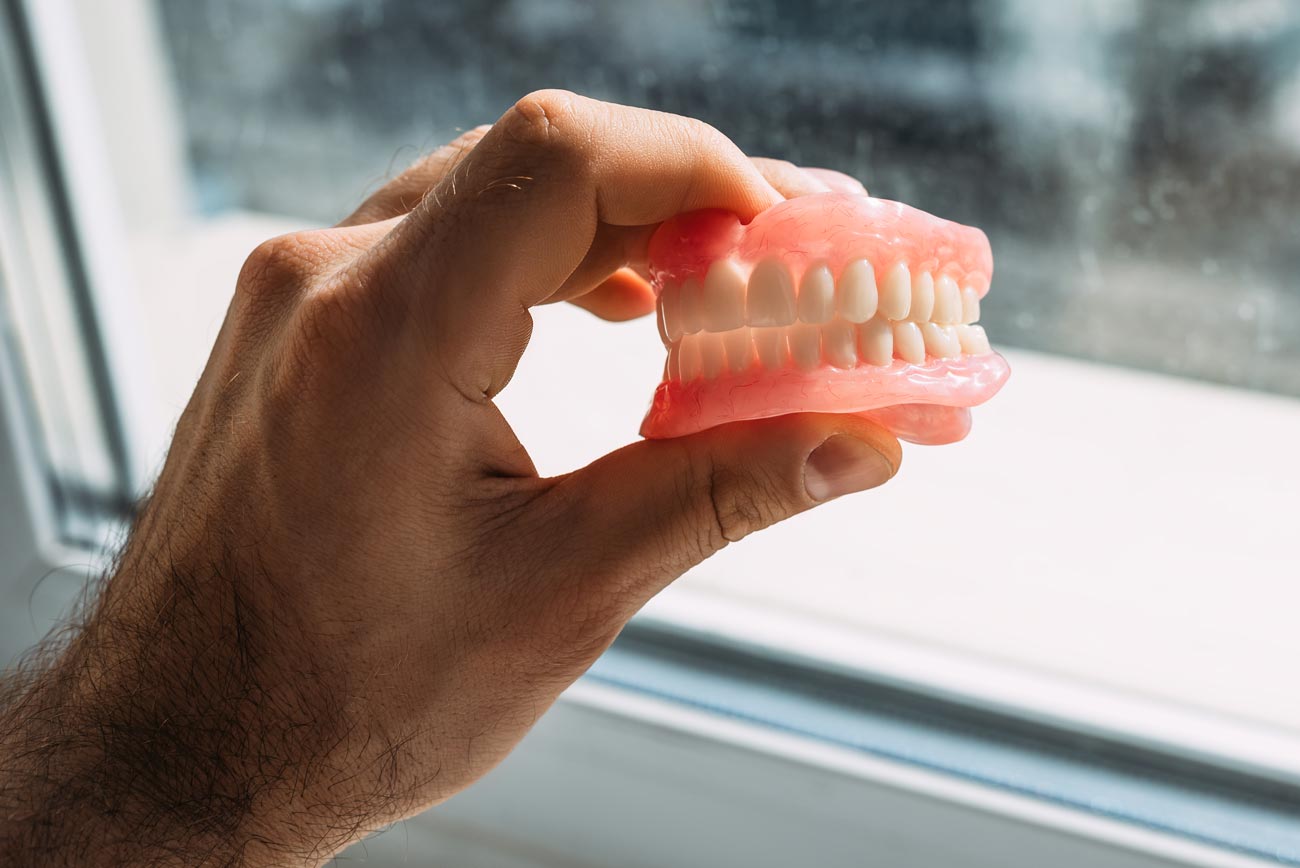 YOUR FULL-ARCH REPLACEMENT OPTIONS
While no one intends to lose all of their teeth, it happens more than you may think. If you already wear removable dentures, you understand the challenges that they may cause to everyday tasks. If you hate your dentures now, you'll hate them even more the longer you wear them.  At Williams Lake Smiles, our certified dentist, Dr. Wassenaar understands that his patients are regular folks, and everyone deserves to be able to smile. Affording to replace your old dentures with fixed implant dentures may not be in your budget right now – That's why we offer segmented treatment options. Segmented treatment means you get your implants gradually, as you can afford to. Dr. Wassenaar starts with two small implants in the front to hold your dentures in place. While this is not the most ideal for implant dentures, it allows you to have much more control. Later, implants are placed in the molar region to give much more stability. See below for these options.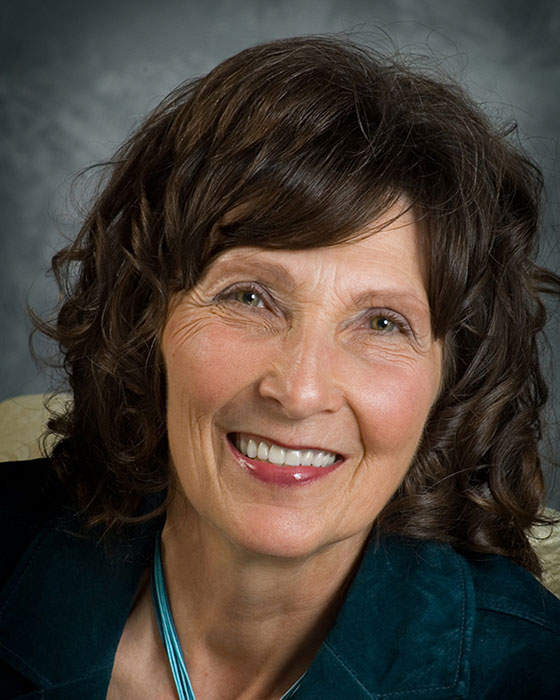 Two Implant Denture Support
FIRST STEP IN SECURING YOUR DENTURES
By placing two dental implants in the front, this patient's lower dentures are much more secure than before. This is also an excellent starting point for those who do not have the budget right now to get 4 implants placed. These implants are used to snap on a removable prosthetic and help keep the lower denture in place. Ideally, this patient will return and have two more implants placed in the back as well for optimal stability.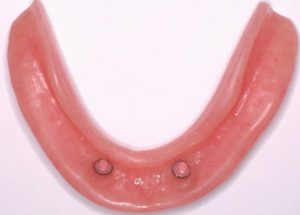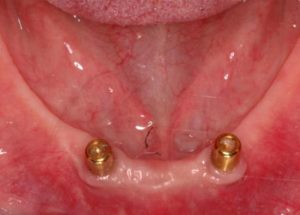 Three Implant Denture Support
NEXT LEVEL OF DENTURE SUPPORT
With three implants, we would enjoy more stability compared to only two implants. Another advantage is that the three implants combined would shoulder the same chewing force as only two implants combined.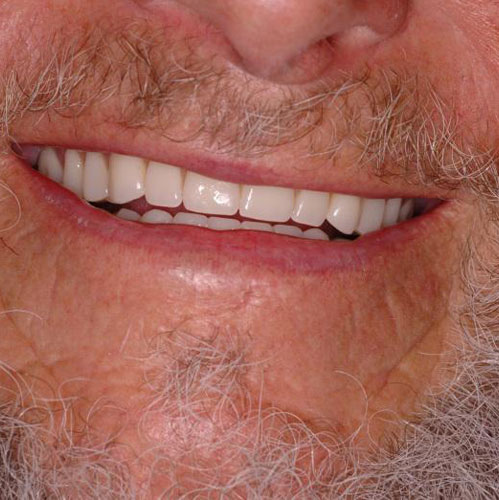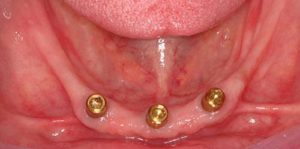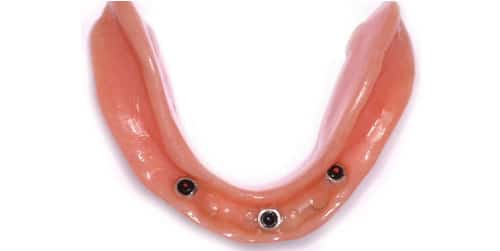 By connecting the three individual implants with a titanium bar we can build more retentive features which will give you more stability. The bar will lessen the load on the implants compared to having three sperate implants. The denture will be more stable and the chance of overloading the implants is lessened.