ORTHODONTICS
This has everything to do with improving the way we function in terms of chewing, speaking and our ability to clean up and around our teeth. Typically if teeth work better, they tend to look better today. You can imagine that if teeth are severely crooked, it would be more difficult to clean around them. It is therefore obvious that having teeth straightened, that they will develop Jess problems like tooth decay and gum disease in later life.
The best time to start planning for braces is at age 10-13, just around the time when the last few baby teeth are about to fall out. But even before that, every young person should be assessed at age 7-10 to determine if things are developing normally.
CROOKED TEETH
When the teeth are too big, or the jaw is too small teeth tend to rotate and shift out of position because there is not enough room for them to come through as they are supposed to. Braces can be done at any age, bates get best results at an earlier age because if a person is still in their growth phase, things go faster and also appear to be more stable once finished.
What it would take is a comprehensive diagnostic process to analyze the growth data, and to make calculations what treatment option would be the most appropriate. Sometimes we can make the jaw grow bigger ( upper jaw) to create the necessary space, or we have to consider removing some permanent teeth.
We are still using the tried and true metal wires and elastics, but in a substantial number of cases we can achieve good results as well by utilizing a tray system called Clear Aligner. By fabricating clear plastic molds that fit tight over the teeth using 3D technology. This tightness will move the teeth towards their planned positions according to the treatment objective.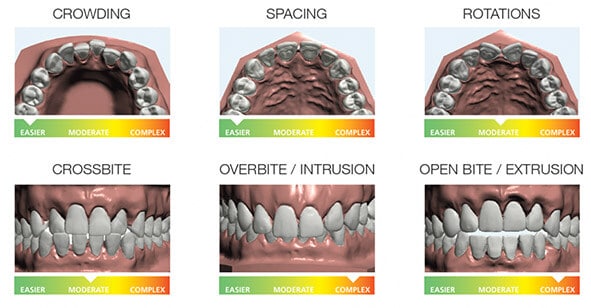 THE TRADITIONAL WAY OF DOING BRACES INVOLVED JUST THAT: BRACES
Most people would not mind getting their teeth straightened but are not particularly excited about metal wires, elastics and a multitude of visits. In selected cases, we can now offer an alternative which will move your teeth in their desired positions but with the actual braces.
By 3D scanning of the way your teeth are before treatment, partners we are working with can do a virtual tooth movement using computer software. After each small increment of movement stray is fabricated that transfers the altered tooth position to your mouth. Typically, by wearing this tray for about 3 weeks, your teeth will have moved to the position as designed the manufacturing process of the trays. The more tooth movement is needed, the larger number of trays will be needed, up to twelve months.
Some of the more complex cases we sometimes start out using the traditional braces and wires to get most of the tooth movement. Then, it is sometimes possible to remove the braces and switch over to our tray system to finish the case. The benefit is that the teeth will predictably move and the trays are almost invisible which a lot of people have found that they would prefer this over metal wires, elastics and brackets.
Interested in Clearline Braces? Contact us at Williams Lake Smiles today.