Dental implants are an attractive and effective way to restore your smile. They are a convenient solution that looks and functions like your natural teeth. Proper dental implant care at home is important to protect the long-term viability of your implants. When it comes to protecting dental implants,  "the goal of oral hygiene is to prevent infection."
You do this in the same way you care for your natural teeth, with a daily regimen of brushing, rinsing with mouthwash, and using an interdental cleaner (a device designed to clean between teeth).
It is essential to choose gentle hygiene products for use with your dental implants for two reasons: You want to avoid scratching your implants, and you also want to avoid irritating the soft tissue around your implants.
Choosing the Right Toothbrush
There is a lot of discussion about which type of toothbrush works best around dental implants and other types of dental work. Numerous studies have been conducted to determine whether electric or manual toothbrushes are the safest and most effective way to protect your dental implants. So far, these studies "show no significant difference between sonic, electric, or manual toothbrushes."
One thing is clear, though. You should select a toothbrush with soft bristles for proper dental implant care. There's a consensus in the dental literature that "supports the use of soft or extra soft brushes as a means to clean the surface of  a titanium implant safely."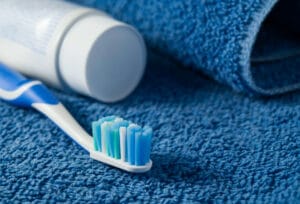 Make sure to brush for at least two minutes and cover all sections of your smile. Many electric toothbrushes contain a timer to help remind you how long to brush for. Electric toothbrushes are recommended for patients who have difficulty applying sufficient pressure on their own.
Choosing the Right Toothpaste
You should choose toothpaste that does not contain any abrasive ingredients. That means avoiding toothpaste with baking soda, stain-removing toothpaste, and smoker's toothpaste. You should also avoid toothpaste containing either stannous fluoride or sodium fluoride. This is important for dental implant care because it can damage the titanium in your dental implants.
Choosing the Right Interdental Cleaners
An interdental cleaner removes debris from spaces between your teeth that your toothbrush can't reach. Dental floss is the most common interdental cleaner, but water flossers (also known as oral irrigators) and interdental brushes are alternatives to flossing.
Flossing is an effective way to clean around dental implants. Dentists recommend using either nylon-coated floss or floss that's explicitly designed for use with dental implants. Floss with pumice or whitening products should be avoided at all costs.
Many people find water flossers to be a gentle and effective alternative to dental floss. Recent studies have found that, when compared to dental floss, water flossers are "up to 50% more effective in reducing gingivitis and up to 93% more effective in reducing gingival bleeding."
Interdental brushes are another excellent alternative for cleaning between your teeth. Just make sure to select one that's plastic or plastic-coated, as interdental brushes with metal wires are not recommended for use with dental implants.
Choosing the Right Mouthwash
You should rinse with mouthwash every day. Research shows that for patients with dental implants, "the use of an antimicrobial rinse, in conjunction with a rubber tip stimulator, may be recommended to inactivate bacteria." Be sure to use a mouthwash that is alcohol-free because alcohol dries out your mouth and will interfere with your body's natural ability to fight off dangerous bacteria.