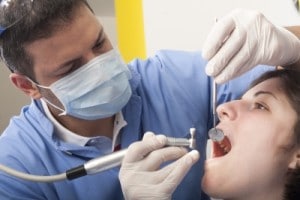 For some, a visit to the dentist is as easy as buckling their seatbelt…and just as important!
For others, the chilling thought of a dental visit is all but impossible to cross off their "to do" list.
Fear of going to the dentist is right up there with the fear of speaking in public. Approximately 20% of adults avoid going to the dentist due to fear or anxiety – including fear of needles, anesthesia, pain, embarrassment or anxiety over infringement of their personal space.
Even though they know that their fears are irrational, some people are absolutely panic-stricken, terrified, and may even become physically ill at the thought of time in a dental chair.
Older adults may fear the dentist because of a traumatic childhood dental experience – when procedures were painful, ambience was severely lacking, and patient comfort was not a consideration.
If you happen to fall in the "chilling thought" dental visit category, here are five tips that just may help:
Communicate – Before your procedure, talk to your dentist about how you will communicate any pain or discomfort.
Take a break – During a long procedure, anxiety can build and you may begin to feel claustrophobic. If you feel, at any time, like you need take a break, let your dentist know.
Ask about medication – Today's anesthesia is much more effective than in years past. Discuss with your dentist the many possibilities for a more comfortable and calming dental visit.
Don't be afraid to talk to your dentist – If you are anxious about a procedure, talk with your dentist about it. It could be that the 'unknown' is what you fear, especially if it has been many years since you last visited a dentist.
Create a mental distraction – Think about something else; let your mind wander. Listen to the radio on your mobile device. Tune in and tune out!
Call Williams Lake Smiles and let us put your dental fears to rest.
Your smile is well worth the effort!