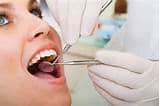 Most of our patients are aware that brushing and flossing are important parts of keeping your mouth clean and fresh. Many don't know that they should brush their tongue as well. Here are a few additional reasons why you should try cleaning your tongue in addition to the steps already included in your dental health routine.
Bacteria and Your Tongue
Most patients would be surprised to discover that the tongue holds most of the bacteria in your mouth. Although you may think differently, taste buds and other structures contain tiny crevices, small holes, and microscopic cracks in the surface of your tongue. As you eat and drink, bacteria can then hides in these spaces and forms biofilm. Biofilm is a tiny group of microorganisms that stick together and form a nasty substance that often appears as a white film on your tongue. Unfortunately, brushing, rinsing your mouth with water, or using mouthwash is not enough to remove this icky biofilm. If all of the bacteria is not removed, it causes a host of problems. This is why it is so important to brush your tongue on a regular basis.
Can My Tongue Cause Bad Breath?
You may not know it, but your tongue can house thousands of tiny particles of bacteria that cause bad breath. Consequently, one of the biggest benefits of brushing your tongue is eliminating halitosis. Studies also suggest that 68% of bad breath cases were cured after a thorough tongue scrubbing. So if you are experiencing a nasty taste in your mouth, try incorporating a tongue brushing or scraping into your oral health routine.
How Can You Brush Your Tongue?
There are a few helpful ways to properly clean bacteria from your tongue. Here are some of the possible techniques that we recommend to our patients:
Use A Toothbrush. Patients should stick out their tongue as far as they can and brush as far back as they are able. The farther back you can comfortably brush, the better off you will be. Try putting toothpaste on the brush or dipping it in mouthwash for more effective results.
Try A Tongue Scraper. A tongue scraper is a plastic tool, with a smooth edge on both sides. When using one you can actually see the bacteria come off. However, dentists say that this tool doesn't really get down into the grooves in your tongue as well as the bristles of a toothbrush or a specific tongue cleaning tool.
Utilize A Tongue Cleaner. This product is similar in appearance to a tongue scraper, but has rubber bristles. The small rubber pieces are used to get into the grooves on the surface of your tongue and pull out bacterial substances.
Give Dental Floss A Try. Dentists usually consider this the least effective option, but it is definitely and option if it is all you have. Simply wrap a portion of dental floss around your two index fingers and drag it across your tongue. Bacteria and biofilm should come off on the floss.
How Do I Know If I Have Brushed My Tongue Properly?
How do you know if you've cleaned your tongue well enough? All you need to do is open your mouth, stick out your tongue, and take a look. Most of the time, you will be able to tell if you have brushed your tongue properly. If you can see a coating of biofilm then your tongue is not clean and you should keep brushing.
Other Benefits To Brushing Your Tongue
Dental experts suggest that there are other benefits to brushing your tongue. Some of these benefits include:
Improved ability to taste.
Improved oral hygiene.
Reduced tooth decay and fewer cavities.
Better breath.
Improved overall health.
Improved digestion.
Try Williams Lake Smiles For All Your Dental Health Needs
Here at our dental practice, we want all of our patients to know how important oral health is. If you have questions about the treatments we offer or general questions about oral hygiene, please feel free to peruse our website or give us a call for more information. Give us a call now to schedule your own appointment with Dr. Wassenaar at Williams Lake Smiles.