On Tuesday, June 6, 2017 the city of Williams Lake, British Columbia, Canada awarded two of its citizens with Certificates of Merit. The goal of the ceremony was to acknowledge Williams Lake citizens who are drawing positive attention for the city. Read about who was awarded and the specific reason that Dr. Wassenaar was chosen for the Certificate of Merit in Williams Lake.
The Two Recipients of the Williams Lake Certificate of Merit
Dr. Wassenaar was given the Certificate of Merit for his international work that has brought attention to the dental community of Williams Lake. The second awardee was a young wrestling champion named Tyleen Scaiano. Both Dr. Wassenaar and Ms. Scaiano were given the awards at the regular city council meeting on Tuesday, June 6.
Dr. Wassenaar's International Accomplishments
The main reason that Mayor Walt Cobb presented Dr. Wassenaar with a Certificate of Merit was for his advanced work in implant dentistry. By becoming a renowned dental implant surgeon based out of Williams Lake, Rudy Wassenaar has drawn attention to the city. This led the way for other dental professionals to visit Williams Lake, and to consider the city a leading center for implantology.
Dr. Wassenaar Responds to His Certificate of Merit Award
As a longtime citizen of the city of Williams Lake, Dr. Wassenaar was appreciative of the chance to be recognized by the community. This was his response to receiving the Certificate of Merit:
"I've lived here and worked for 30 years and worked hard always to do a better job. For the last few years, I've been getting international attention with what I've been doing with implant dentistry so I'm hoping it will attract more professionals to Williams Lake, more people that look for certain services, be comfortable living here and moving here, and that applies to every small town in Canada."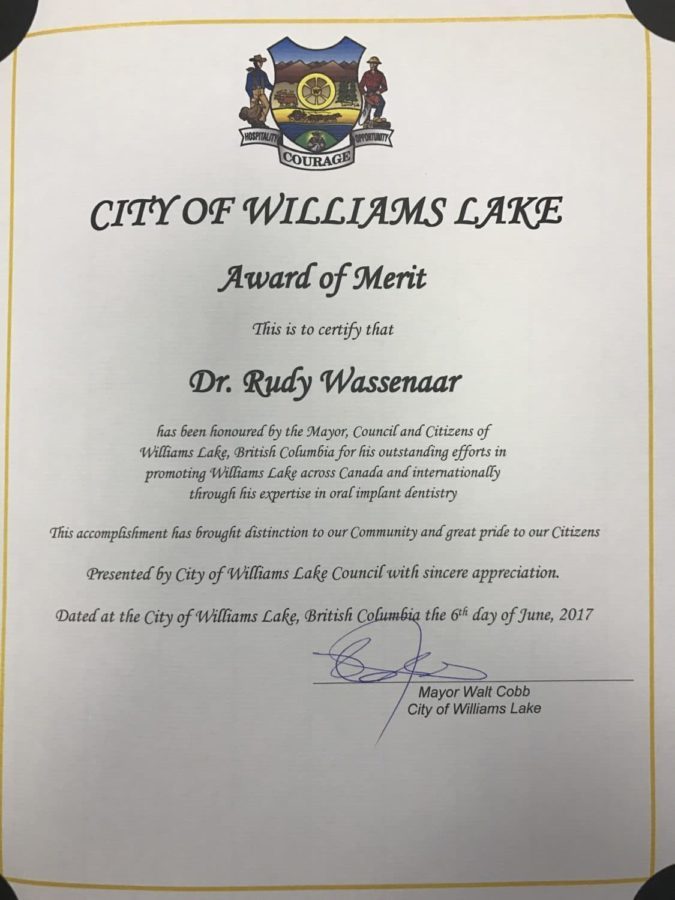 Honoring a Lifetime of Accomplishments in Williams Lake
Williams Lake Smiles is a practice that has been on the leading edge of dental implant technology since its inception. If you're missing teeth, few doctors on the planet have the knowledge and mastery of dental implants that Dr. Rudy Wassenaar does. Whether you've been considering the procedure for years, or need to find out more before moving forward, contact Williams Lake Smiles to learn more.