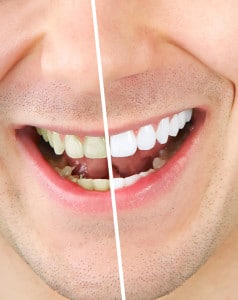 Seems like teeth whitening methods are everywhere – in toothpaste, floss and kits from the grocery store — and at the dentist. It is certainly one of the biggest trends in personal hygiene and style. And according to the American Academy of Cosmetic Dentistry, it is the most requested cosmetic dental procedure.
Part of the reason for the procedure's popularity is our dissatisfaction with the natural darkening that happens to our teeth as we age. And so many things that are part of our daily diet — coffee, tea, wine, soda – discolor our teeth. But despite that, most of us have come to expect ourselves and everyone else to have bright smiles. (Even though teeth aren't naturally that white.)
So teeth whitening is here to stay, with the products increasing and the results improving. But along with bleaching, there are other methods that can help make your smile look healthy and youthful. So whether you bleach or not, try adding these practices to your dental care methods for the brightest smile yet:
Floss your teeth twice a day
Healthy pink gums make white teeth appear even brighter, serving as the setting for your dazzling smile. Inflamed or bleeding gums aren't just unattractive; they're an indicator of gum disease.
Eat healthy crunchy snacks
Choose raw fruits and vegetable at snack time, such as carrots and apples. These types of foods massage your gums when you eat and help you produce more saliva, both of which help wash away cavity- and disease-causing bacteria.
See you dentist regularly
The deep cleaning that you can only get at the dentist's office can be a whitening procedure of its own. The procedure clears away plaque and surface stains and stimulates your gums for a healthier, pink appearance.
Bonus tip if you wear makeup:
When it comes to lipstick, choose colors that make your teeth appear whiter – those that have blue undertones.
At William Lake Smiles we offer everything from teeth whitening to repair and replacement. Call us today for a consultation, and see what we can do for your smile: (250) 398-8411