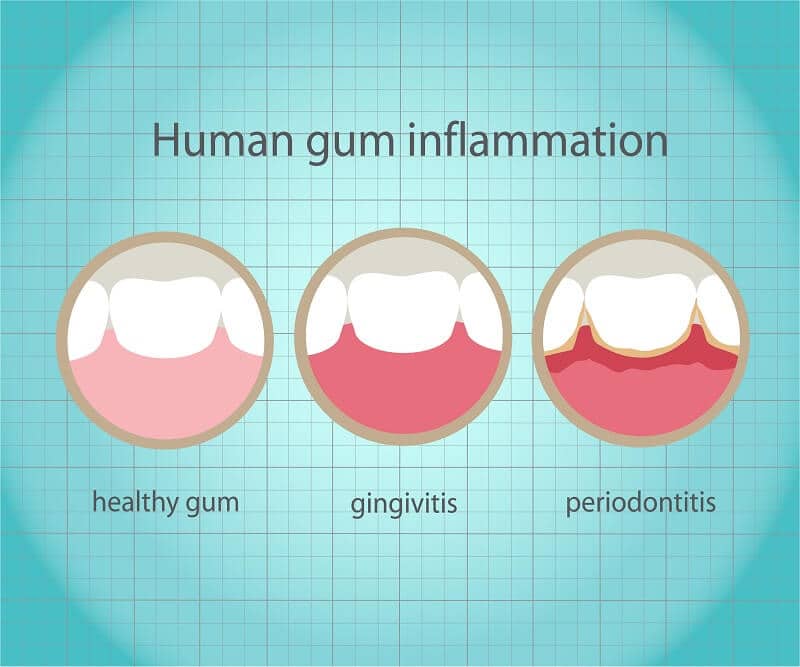 Signs of Gum Disease
If your teeth hurt when you chew or if your gums bleed when you brush, you probably have gum disease. That means you should see your dentist right away. Otherwise, gum disease could wreak havoc on your smile.
Gum disease is a condition which afflicts millions of Canadians. In fact, according to the Canadian Dental Association, "7 out of 10 Canadians will develop gum disease at some time in their lives."
What is Gum Disease?
Gum disease is a devastating bacterial infection which attacks your gums. The bacteria which causes gum disease consumes the plaque and tartar which grows on your teeth.
That's why the you should use the following strategies to help prevent the growth of plaque and tartar on your smile:
Brush daily

Floss daily

Use an antibacterial mouth rinse daily

Avoid sugary foods, particularly between meals

Visit Dr. Wassenaar in Williams Lake for Regular checkups
The Three Stages of Gum Disease
There are three stages of gum disease, and each one gets progressively worse:
Gingivitis

Periodontitis

Advanced periodontitis
If Dr. Wassenaar catches gum disease early, it's much easier to treat. But if it's allowed to progress all the way to the advanced periodontitis stage, the patient is in serious jeopardy of losing one or more teeth.
The Symptoms of Advanced Periodontitis
Patients with advanced periodontitis need to see a dentist right away. The symptoms include:
Red, swollen, sensitive, gums

A constant bad taste in your mouth

Teeth slide around the jawbone

It hurts to chew

Gums bleed when you brush or floss

Pus oozes from swollen pockets at the base of teeth

Bad breath

Teeth pull away from gums and appear to be getting larger

Teeth fall out
Treatment for Gum Disease
We hope you see Dr. Wassenaar before a hazardous condition like gum disease gets out of hand. But the good news is there are treatments available for all stages of gum disease, including:
Scaling and root planing

–deep cleaning of plaque and tartar all the way down to the roots of your teeth

Flap surgery

–reconstruction of infected gum tissue

Gum grafting

—

surgical procedure aimed to cover an exposed tooth root surface with grafted tissue.
The Long-term Health Consequences of Gum Disease
If you think you are suffering from gum disease, it's essential to see Dr. Wassenaar right away. Gum disease doesn't just attack your smile. Researchers have linked gum disease to the following serious medical conditions:
Diabetes

Heart Disease

Premature Childbirth

Cancer

Strokes

Lung Disease
Healthy Smiles in Lake Williams
The best way to fight gum disease is to never get it in the first place. So take good care of your smile at home and make sure to visit Dr. Wassenaar for a checkup twice a year.  Why not schedule your next appointment right now?