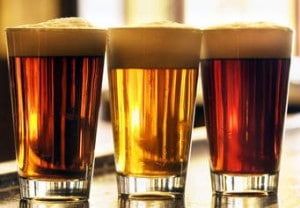 Is Beer Good for Your Teeth?
With a rich and complex history, beer has long been one of the most popular drinks in the world. In fact, it comes as a close third place behind tea and water, and surprisingly ahead of coffee. In the medieval times, beer was consumed instead of water because of the unsanitary quality of water. It has only been within the last couple of hundred years that beer has become more of a drink of leisure. Continue reading to learn more about what health benefits it can provide and discover the answer to the question: "is beer good for your teeth?"
Beer Today
Today, beer is made in many flavors and by thousands of companies. Beers can generally be categorized as dark or light. Darker beers like stouts and porters have a coffee flavor with hints of peanut butter or vanilla. Such beers are typically higher in alcohol content but are not so good for your teeth. Lighter beers like pilsner's or IPA's have a lower alcohol content and a higher amount of one surprising ingredient that is better for your oral health. This amazing ingredient is hops and it has long been added to beers as a preservation agent.
Do Hops Actually Prevent Plaque?
Many beer connoisseurs know about the healthy ingredients of this light libation. However, beer also contains antibacterial properties from the properties afforded by hops that have been proven to help reduce dental plaque. When certain bacteria multiply in the mouth, they can increase inflammation and infection. Beer can help fight these bacteria and thus decrease plaque levels. This can be particularly helpful for patients who are prone to gum disease or dental implant patients who need to ensure their teeth remain plaque free because of the danger of peri-implantitis. This inflammatory disease starts in the gums and can quickly spread to the jawbone, causing swelling, pain, infection, and ultimate failure of dental implants.
How Much Beer Is Healthy?
It is important to note the overconsumption of any kind of alcohol is dangerous, even beer. In order to reap the full benefits the hops create, drinkers should stick to two or three beers.
What Kinds Of Beer Are Healthy?
Lighter beers are better for your teeth because they contain ingredients that are great for maintaining tooth enamel. Additionally, when beer is consumed in moderation, it can prevent osteoporosis and help the body heal from bone loss caused by gum disease. It can also help the body better attach dental implants into the jaw tissues.
Additional Health Benefits Of Beer
Heart: Italian researchers discovered that moderate beer consumption created a 42 percent lower risk of heart disease compared to non-drinkers. Just be sure to keep consumption to one pint a day.
Brain: Researchers studied 40 men watching a movie while completing verbal puzzles. The men who watched movies while drinking beer solved the problems a few seconds faster than their sober counterparts.
Blood: Dutch researchers found that when men began drinking beer moderately (a beer or two a night) over 4 years, they were significantly less likely to be diagnosed with type 2 diabetes.
Kidneys: Researchers in Finland found that consuming a beer daily lowers his risk of developing kidney stones by 40 percent. Additionally, the researchers say the hops in beer may be responsible for the correlation, helping to slow the release of calcium from bone—which could get reabsorbed by the kidneys as painful stones.
Eyes: Canadian researchers found that one daily beer increases antioxidant activity that can stop cataracts from forming in the eyes. However, more than three beers a day had the opposite effect.
Blood Pressure: According to research, beer can lower your risk for hypertension. In fact, studies have found that moderate beer drinkers are less likely to develop high blood pressure than those who sip wine or cocktails.
Come To Williams Lake Smiles Today For All Your Dental Needs
Here at our dental practice, we want all of our patients to know how important oral health is. If you have questions about the treatments we offer or general questions about oral hygiene, please feel free to peruse our website or give us a call for more information. You can also call our Williams Lake, BC, office for a consultation with Dr. Wassenaar. Give us a call now to get started on your journey to a healthy and happy smile.