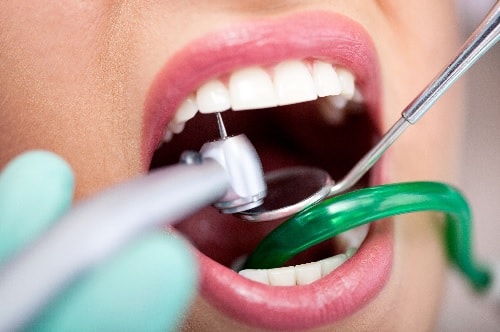 For many patients, the dull buzzing of a dental drill is enough to scare them out of the dentist's office. We've discussed the dangers associated with dental fear in a previous post, but we'd like to stress the importance of regular dental visits again for our patients here in Williams Lake, BC. Going to visit your dentist twice a year will help keep your smile in tip-top condition because it allows your dental professional to catch any oral health concerns early on.
Many patients dealing with dental anxiety may avoid going to the dentist altogether due to their fear of the dental drill. Although this tool is often associated with poor experiences at the dentist's office, it is crucial part of the traditional "drill and fill" technique used to treat tooth decay. This technique has been the go-to method to treat cavities for decades. While this trusted technique is effective at stopping the progression of decay, recent studies show that a no-drill approach can be just as effective. So, what does this no-drill technique entail? Dr. Rudy Wassenaar shares more about this new approach for his patients here at Williams Lake Smiles.
A Look at the Past: Drill and Fill Technique
Before we take a look at the no-drill approach to dentistry, let's briefly go over the old drill-and-fill technique. This method was widely used because most dental professionals believed that tooth decay was a rapid process. Dentists would spot signs of decay and believed that the issue needed to be treated immediately by drilling through the area of decay, removing the decay, and then filling the area. In instances of fully formed cavities or holes in the teeth, fillings are absolutely necessary. However, a recent study suggests that most dental professionals are too quick to resort to the old drill-and-fill technique at early signs of tooth decay.
It's no surprise that we often revert to the reliable method of drilling and filling tooth decay. This method has been around since the very early days of dentistry. In fact, researchers have even found a filling made out of beeswax that dates back approximately 6500 years. The oldest evidence of a dental filling dates back further and is around 7,5000 to 9,5000 years old. Modern fillings as we know them began in the 19th century when metals including gold, tin, and silver were softened and placed in the area of decay. Today, dental fillings can be made with a number of materials to best suit the patient's needs.
Benefits of a No-Drill Approach
A study published in Community Dentistry and Oral Epidemiology looked at the need for fillings and alternative tools to deal with early signs of tooth decay. Researchers looked at tooth decay over the course of seven years and found that decay occurs at a much slower rate than first believed. Early decay can take months or even years before the issue actually develops into a full blown cavity. Before a cavity forms, decay can be reversed and patients can be spared the trouble of getting a dental filling.
Throughout the study, researchers found that preventative dentistry can be more effective than the drill-and-fill approach. The study found that the need for fillings was reduced by 30-50% with the help of preventative measures. The team of researchers developed a set of preventative protocols to treat early signs of decay before it develops into a cavity. The four aspects of the no-drill approach include:
Additional attention to toothbrushing skills
Restricting in-between snacking and beverages with sugar

Use of high-concentration fluoride varnish on areas of early decay

Monitoring of specific risks and areas
Contact Williams Lake Smiles
The use of preventative measures can help you avoid the need for fillings later down the line. However, it's also important to note that you will need to get a filling if your tooth decay has developed into a full blown cavity. With the formation of a hole in your tooth, bacteria can continue to eat away at your tooth and worsen your oral health without proper care. In the event of any oral health concerns, it's crucial to contact a dental professional as soon as possible.
Here at Williams Lake Smiles, we offer a range of dental services to best address your oral health and individual concerns. To learn more about our services, contact our office today and schedule your appointment with Dr. Wassenaar.